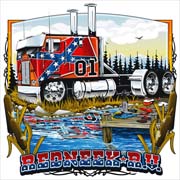 Welcome
to DustinOSnell.com. The official home of artist Dustin O. Snell featuring Truck art along with t-shirt and graphic designs. Dustin O. Snell and his Truck Art are known nationally. If you need that something special he is the one who can deliver through art.
Our shirts would be nothing without great custom artwork printed on them. We can take your idea and make a design you will love - or let us come up with some ideas for you. Either way, Dustin O Snell is at your disposal. We can also design logos for you or apply your existing logo following your exact specifications.
All of this and more await you in The Galleries. Not to mention some of the coolest t-shirt and graphic designs to be found!